Announcements
BSBI Bi-Weekly Announcements 5/2/2018-5/16/2018
What's Happening at BSBI?
May 2nd: May 3rd: May 5th: May 6th: May 7th: May 8th: May 9th: May 12th: May 14th: May 15th: May 19th: May 24th: June 7th: June 13th:
Monday through Thursday evenings:
7:00 PM

Friday nights:
6:30 PM

Shabbat mornings:
10:00 AM

Occasionally service times may vary due to special events. If in doubt, call the office at 860-643-9563 or visit our online calendar.
May Bulletin Available Online!

Did you know that we post each month's Chai Lights online by the 1st of the month? Click here to view the May edition and take a look at some of the great color pictures!

Interested in past bulletins? Take a look at this page on our website, which has every bulletin from the past few years in addition to the latest edition.
Deadlines Approaching Fast!
Tonight!
Legacy Giving Seminar
May 2nd, 7:30 pm

Since August 2017, the BSBI Endowment has included multiple articles in the monthly Bulletin describing different giving opportunities that may be optimized for both the donor and recipient of legacies. Some issues have been raised about the mechanism of leaving a legacy and additional details about specialized giving opportunities.

To address these questions, the Endowment of BSBI, in conjunction with the Jewish Community Foundation (JCF), will be sponsoring a discussion of charitable and legacy giving on May 2, 2018, at 7:30 PM in the Silverstein Center. Rabbi Konigsburg will offer a D'var Torah, and we have invited two guest speakers to join us at this information session. Hollis Dorman of the Jewish Community Foundation will discuss giving opportunities, some of which may offer unique benefits to the donor and BSBI in partnership with JCF. Monique Polidoro, a Partner at Rogin Nassau, LLC the law firm used by the BSBI Endowment, will discuss the "ins and outs" of legacy giving. A pareve dessert, coffee, and tea will be provided. There will be ample time for questions. This session is for informational purposes only and to answer some of the questions that have been raised by BSBI members who have expressed an interest in legacy giving.

All congregants are invited to attend. This will be a great opportunity to learn how we may Leave a Jewish Legacy for future generations. For more information about this program, email Jeff Wasser at jeffreywasser@sbcglobal.net or BSBIEndowment@myshul.org .
Come one, Come all
To Our Event to Support Our Jewish Campers!
Thursday, May 3rd, 7:15 pm

Manchester Country Club, 305 South Main Street, Manchester, CT 06040

Cost: $28 per person (includes supper)

Additional donations are greatly appreciated. Your generous support allows us to provide our campers with funds to cover the cost of some of the incidentals they will need to enjoy their camp experience, regardless of which Jewish camp they attend!

If you would still like to attend, call Susan Ellis (860-633-6255) or Susanne Pearlson (860-646-5044) ASAP.

Click here to view the flier
BSBI Annual Meeting
May 14, 2018


The BSBI Annual Meeting is just two weeks away! Minyan will be held at 6:30 pm that evening and will be followed by a light deli dinner and the annual meeting.All are welcome to the meeting at 7:30 pm, but you must preregister to eat!

Please RSVP by using this form or emailing Jeanne at programming@myshul.org by May 7th if you plan on coming for dinner (and bring $6 per person the day of to cover the cost of the food).
Torah Fund Dessert and Film Night
Tuesday, May 15, 2018, 7:30 PM

The Sisterhood of BSBI, as part of Women's League for Conservative Judaism, invites congregants and friends to our annual Torah Fund Dessert to support our Conservative/Masorti seminaries in New York, Los Angeles, Jerusalem, and Buenos Aires. We will show a short film about Israel's Lone Soldiers.

To contribute, please return this form, make out a check to "Torah Fund," and mail it by May 7th to Sylvia Cheerman. Your gift helps educate our future Conservative/Masorti clergy, educators, and more. A donation in any amount is your admission to our film and dessert; $180 or more will earn you a special pin on this year's Torah Fund theme of Mah Tovu, which means "how good". The pin features the number 100 in raised letters and is a keepsake of the Women's League centennial celebration.

Please let us know if you plan to attend on May 15th!

Click here to view the flier!
RSVP by May 11th!
Tikkun Leil Shavuot
An Evening of Food and Learning
May 19th, 6:30 pm

Join us for dinner, davening, discussion, and dessert! The holiday of Shavuot marks the anniversary of the "Giving of the Torah." The relatively recent (16th century) practice of Tikkun Leil Shavuot traditionally entails studying all night in order to build anticipation for receiving the Torah the following day. We will not make it all night, but will study late into the evening.

The evening will begin with a light Seudah Sh'lishit dinner at 6:30 pm, followed by the Ma'ariv service for Shavuot at 7:00 pm. Cantor Bolts, Michelle Konigsburg, and Dr. Stacey Zackin will lead discussion based learning sessions starting at 8:00 pm.

Topics will include:
The (Back)story of Ruth with Michelle Konigsburg
At Dawn I Seek You: Learning and Singing Piyyutim with Cantor Bolts
New Topic:
"Thou shalt not covet": Relevance in Contemporary Life with Dr. Stacey Zackin

We will conclude with a traditional cheesecake dessert at 10:00 pm.

The light dinner will cost $15, preregistration is required. Make checks out to BSBI and return to the office by May 11th.

Register online here.
High Holiday Honors

The subcommittee for High Holiday Honors is soliciting nominations for honorees. If you know of someone who is contributing to BSBI in any way, and would like to nominate them for a High Holiday Honor, please let us know by May 15th. Just tell us their name and why you are nominating them. Due to limited slots, we can't promise to provide honors for all nominees, but we will do our best to not leave anyone out. Please email Steve Cohen at ritual@myshul.org , or call him at 860 648-2571.
Deadline Extended! Return School Registration for Early Bird Rate!

Registration is now open for the 2018-2019 school year at RLWRS! Please pick up your registration forms in the shul lobby or download them from our website .

Early bird rates apply until May 31st.
Celebrating Israel's 70th Anniversary Programs at BSBI!

May 24th, 7:30 -9:30 PM: Rock In The Red Zone Film
June 7th, 7:30 - 9:00 PM: Micha Biton Concert & Social Gathering
Mark your calendars for two exciting events this spring sponsored by the Saul and Carol Nesselroth Fund for Israel Advocacy to celebrate Israel at 70.

The first will be a screening of the film Rock in the Red Zone, featuring Israeli musician Micha Biton, on May 24th. It is a personal view from the ground on the front lines of an endless war and a powerful exploration into the lives and art of musicians struggling to create in a conflict zone. This movie demonstrates the power of artistic creation to transcend even the most challenging circumstances. It also reminds us that sometimes in the least expected places, we can find magic.

Then, on June 7th, come see Micha Biton in concert. The performance will be followed by a social gathering, where you can meet the musician, purchase a CD, and have something to eat! To get a glimpse of the musician before the event, visit https://michabiton.bandcamp.com/ .

Two for the price of one! $10 Admissions will get you into both events! Register online here. Contact programming@myshul.org for more info.

Click here to view the flier!
Mitzvah Day
May 6th, 9:00 am - 1:00 pm

Please join us on Mitzvah Day, May 6th from 9 a.m.-1 p.m. We will be beautifying the grounds by weeding, spreading mulch and planting. We will also be organizing and de-cluttering the room behind the coat closet to make it more functional. Our last project will be to assemble toiletry kits for newly arriving refugees and we are currently collecting toiletries for those kits.

Even if you cannot help on May 6th, please consider donating some of the following items for our kits: shampoo and conditioner, deodorant, bar soap and hand soap, razors, shaving cream, toothbrushes for adults and children, toothpaste, feminine napkins, ice packs, bandages, bandaids, combs/brushes

We hope to see you on May 6th, for questions, please contact Merle Cohen at merlecohen@gmail.com .
RLWRS Last Day of School
May 6th, 10:00 am

After a wonderful year of Jewish learning, the RLWRS school year will end on May 6th with student presentations and a graduation ceremony. These activities will begin at 10:00 am so that students and families have the opportunity to participate in Mitzvah Day. At around 11:30 am, we will transition into a barbeque luncheon prepared by our Brotherhood.
Brotherhood Breakfast & Magic Act by Cal Vinick
May 6th
Morning Minyan, 9:00 am
Breakfast Meeting & Speaker, 9:30 - 11:30 am
Our May Breakfast meeting is May 6th, with our own Cal Vinick presenting a very special magic act. That day is also the last day of school for our students, which we will support by sponsoring (and cooking) a barbeque luncheon.
Jessie's Garden
May 6th, 11:00 am

Jessie's Garden was begun at BSBI in the spring of 2013 by the Kostin Family, members of Beth El, in memory of their daughter Jessie. Each spring, summer and fall our volunteers lovingly plant, water, weed and harvest our crops which are delivered to the Manchester Area Conference of Churches and Hockanum Valley Community Council. The food banks are so appreciative of our fresh produce to help feed the hungry.

Preparation for this year's garden will take place on Mitzvah Day, Sunday, May 6th, at 11 AM. Planting will follow at a later date in May. Volunteers are needed to help plant and tend our lovely community garden. No experience necessary! Please join us to perpetuate this wonderful mitzvah.

To sign up or for questions contact Manny Lerman at mlerman1@cox.net .
Hadassah/Sisterhood Book Club
May 7th, 7:30 pm
The Hadassah/Sisterhood book club will meet in the Silverstein Center on Monday, May 7th, 2018 at 7:30. The book under discussion will be Day After Night by Anita Diamant. Multiple copies are available at Mary Cheney Library in the reference room. Please plan to join us for a discussion of this book and to help choose books for future discussions.
Knit & Kvetch
May 8th, 1:30 pm

Join us as we make blankets, hats, and more for people in need!
Shop to Support our Jewish Campers!
WHO: Women shoppers

WHAT: Sisterhood shopping night

WHY: To support our Jewish campers and students on Israel programs with money beyond tuition — because our children are our future! Scholarship money for camp tuition is already subsidized separately.

WHEN: May 9th, 5:30-9:00 PM

WHERE: EverEve women's clothing store at 200 Evergreen Way, South Windsor Next to Burton's Grill

HOW: Tell them your purchase is for our fundraiser for campers, and the store will donate 15% of each purchase to Sisterhood for this project.

This shopping night is in addition to our supper at Manchester Country Club on May 3rd.
Shirat HaLev
May 12, 10:00 am

Awaken your soul with a musical, contemplative interpretation of the Shabbat morning service. Led by Cantor Bolts.

Services begin at 10am and the program runs from 10-11 am. Everyone is welcome to join us in the sanctuary after the program.
Shavuot Service Schedule

May 19th
6:30 pm: Tikkun Leil Shavuot: An Evening of Food and Learning

May 20th
10:00 am: Shavuot Morning Service
6:30 pm: Shavuot Evening Service

May 21st
10:00 am: Shavuot/Yizkor Service
No Evening Service
22nd Annual Abitz-Angel Memorial Golf Tournament

Register now for the 22nd Annual Abitz-Angel Memorial Golf Tournament! This year, the tournament is named in memory of Todd Abitz, who chaired the tournament in the late 1990s, as well as William "Bill" Angel, who supported the event through most of its existence before passing away last year. We are partnering with Connecticut Children's Medical Center for the first time this year as a major beneficiary of this tournament.

Click here for more information or to register!
Announcements & Reminders
Batter up!
BSBI Softball Team Looking for Players!
BSBI Softball Team is looking for new members to keep the team alive! Games are played June-August, 10am Sunday mornings at the Cigna Fields in Bloomfield. Looking for players 16 years and older (but we are especially looking for young people). Contact Sherry Shamash (860-646-4412) for more information.
BSBI Choir Looking for Altos and Bases!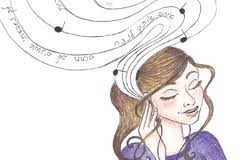 The Choir meets most Tuesdays from 7:30-9pm. Interested in joining? Contact Cantor Bolts at cantor@myshul.org .
We are looking for instrumentalists for a musical Kabbalat Shabbat being planned for this summer! Contact Cantor Bolts at cantor@myshul.org for more info.
Dedicate Our New Prayer Books
We have now made the switch to the new Siddur Lev Shalem! Similar to the Machzor Lev Shalem we use on Rosh Hashana and Yom Kippur, Siddur Lev Shalem includes informational side notes and extra readings on each page to help everyone get more out of Shabbat Tephillot (prayer). Thanks to the generosity of Risa and Roy Filkoff, we are able to provide the new siddur to everyone who comes to our services looking for inspiration.
We are now offering opportunities to dedicate these siddurim in honor of people or events in our lives or in memory of loved ones. A siddur can be dedicated for just $50 a book. We hope that everyone will participate in making these new siddurim an important addition to our services and a record of all the good people and good moments in our lives. If you would like to see a copy of the new Siddur, they are available for inspection at the synagogue.

Click here to download the dedication form!
Journeys: New Teen Program at BSBI!

Register now for Journeys, the new teen program at BSBI, which will kick off in Fall 2018! The Journeys program combines Jewish learning, social action, community leadership, and community building with Jewish peers. All learning and social action projects are self-directed and geared towards the interests of each year's group of teens. Teens will work toward the completion of an independent confirmation project at the end of 11th grade, which will focus on social action, learning, and/or community leadership. The program will culminate in each student presenting their project to the community on Shavuot at the end of their last year in the program.

Journeys will be co-taught by Teri Norman and Michael Chernicoff. The program is open to teens entering grades 8-11. The program will meet every other Thursday afternoon from 4:30-6:30 pm, starting in September 2018. A complete list of dates will be forthcoming.

Visit our website for more details and registration forms.
Cantor Bolts is collecting Hebrew names to make aliyah cards for the gabbaim. Please contact her at
cantor@myshul.org
to make sure that she has yours!
Support BSBI with AmazonSmile!

AmazonSmile is a simple and automatic way for you to support BSBI every time you shop, at no cost to you. When you shop at smile.amazon.com , you'll find the exact same low prices, vast selection and convenient shopping experience as Amazon.com, with the added bonus that Amazon will donate a portion of the purchase price.

Click here for details on how to set up AmazonSmile!
Leave a Jewish Legacy

Click on the link below to like our page on Facebook and share BSBI with all your friends! The more you interact with our page, the more you will see on your newsfeed!

https://www.facebook.com/myshul/
Have an announcement for the bulletin or e-mail?
Contact Jeanne at programming@myshul.org . If she doesn't know about it, she can't include it, and that would be a shame! Please note the bulletin deadlines in order to ensure your announcement will make it into the correct bulletin.

Remember: If you are planning an event or meeting at BSBI, you MUST also contact Judy at admin@myshul.org as soon as possible to put it on the calendar and make sure there are no conflicts. Thanks!
Baltimore Journalist Susan Fisher Sullam will tell the fascinating story of her discovery of her father's role in "Task Force Fisher". As a member of General Dwight Eisenhower's staff during World War II, Lt. Commander Joel Fisher kept records detailing one of the greatest treasure hunts in history. His documents, found by his daughter after his death, chronicled how Fisher led a task force during the closing month of the war that located and recovered billions of dollars' worth of gold, silver, currency and artwork looted by the Nazis.

Cost: $10 in advance, $12 at the door.

Click here to register online.

For more information, contact Lynn Newman at lnewman@jewishhartford.org or 860-727-6170
Common Ground - Holy Ground
Tuesday, May 15th, 2018, 7:00 - 8:30 PM
Beth David Synagogue, 20 Dover Rd, West Hartford


In prudence and love, join us for an evening dialogue as we explore Christianity, Islam, and Judaism, recognizing the moral, spiritual, and socio-cultural values found within them and how their communities can provide us concrete ways to foster peace and solidarity in our common pursuits to live compassionate lives.

Panelists
Patrick Laorden, Office for Catholic Social Justice Ministry
Fr. Edward Moran, St. Thomas the Apostle Church
Rabbi Yitzchok Adler, Beth David Synagogue
Imam Omar Tawil, Farmington Valley American Muslim Center, Inc.

For more information contact Patrick Laorden, (860)-242-5573 Ext. 2686
Beth Sholom B'nai Israel
400 East Middle Turnpike
Manchester, CT 06040
Fri, July 10 2020
18 Tammuz 5780
Today's Calendar
Friday Night Services Sisiterhood Garden Service

: 6:00p
Candle Lighting

: 8:08p
---
Friday Night
Friday Night Services Sisiterhood Garden Service

: 6:00p
Candle Lighting

: 8:08p
Shabbat Day
Upcoming Programs & Events
---
Candle Lighting
Havdalah
Motzei Shabbat, Jul 11, 8:59p
Shabbat Mevarchim
View Calendar
Fri, July 10 2020 18 Tammuz 5780